Posted on May 25, 2022 by Imaginal Marketing | Categories: Best Practices
Since Covid, 95% of website visitors are new guests. Let that sink in—it's proof your website matters now more than ever.
Whether you're building a new site or taking a hard look at what you currently have, find out if your salon website checks all the best-practice boxes we consider non-negotiable. And if not, learn what you can do about it.
Non-negotiable #1: Prioritized Content
Imaginal hosts and manages hundreds of salon websites. Using that collective data, we've ranked the top 10 most visited pages on a salon site - make sure yours are up to par:
Online booking. Is your site's appointment scheduler comprehensive and easy to use? If it's more trouble than it's worth, people will drop out at this point—so close to the finish line!
Home page. Should accurately reflect your brand voice and tone. Navigation must be intuitive, so users don't have to hunt for important info like your online booking or your service menu. Appealing salon location photos are a must when possible– they help new guests make the decision to book.
Service menu. It's important that the services listed on your website are current, comprehensive and with accurate prices. Far too many salons are lax about updating prices, adding new services and deleting those no longer offered—mistakes that lead to missed opportunities and annoyed clients.

This is especially important if your salon has switched (or is considering a switch) to hourly or non-gendered pricing.
 

 

 

View this post on Instagram
Meet the team. This is not only where your current and potential clients can get to know your team—but, crucially, job candidates curious about whether they'd fit in with future co-workers.

Employee bios can achieve a lot with a quality photo and a brief summary of their title; awards or certifications; and areas of specialty. You'll need to update this page with every staffing change. (Unless your salon turnover is minimal, we don't recommend spending a great deal of time crafting long or involved team bios.)
Special offers. Two should live here full-time: your New Client Offer and your Refer-A-Friend campaign. Both are salon website best practices. Why? Because 70% of traffic to salon websites are from new visitors, and both these offers are designed to get them into your chairs.
Contact us. Should contain full name, address and phone number. In turn, all of your business' online listings (on Google, Yelp etc.) should match them exactly. (As in: don't use Ave. on your website and Avenue on a listing. Read more on why it matters.
Locations. Should contain full address and phone number for each location (following the consistency rule listed above) and a responsive map for each that is functional on every device. This helps people to understand exactly where you're located (and get to you!) better than just an address would. And more location photos are always helpful for triggering the new guest's decision to book.
About us. What sets your salon apart from your competitors? What is your brand's mission, vision and values? This is where you can really tell your brand story. Remember, this is written just as much for prospective team members as clients.
Reviews. Most people search online reviews before making an appointment at a new salon. Don't make them leave your website to do it! If your star ratings on your reviews aren't as good as they should be—never fear, you can change that (if you need help, call us).
Careers. While you should be as specific as possible about the nitty gritty (compensation, benefits, perks) – you'll also want to use this page to tell the story of your salon, what makes you different, and why your team loves working there. To the emerging generation of new talent, culture and cause are as important as traditional, and sometimes, even more so. Paint that picture here.

Remember this is a two-way process. You should tell job seekers what you're looking for in a candidate, while giving them ample information to answer if you have what they want in an employer.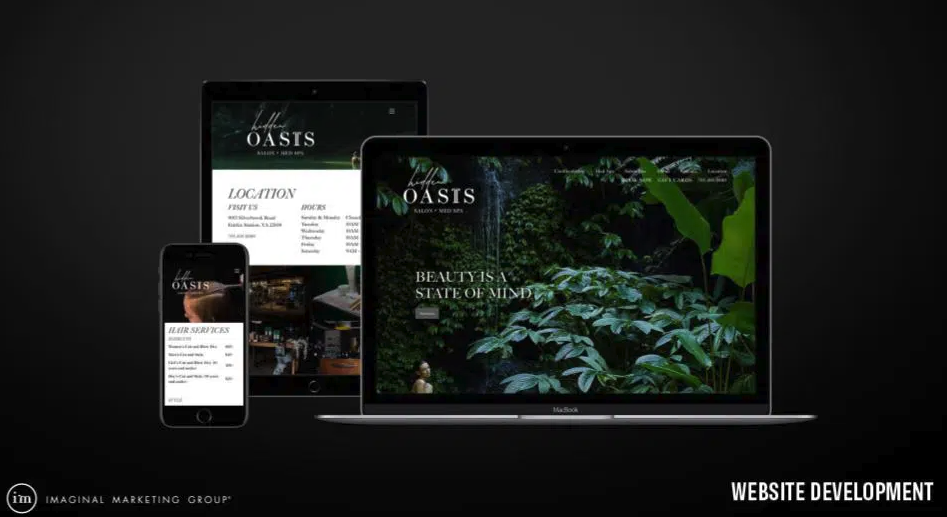 Non-negotiable #2: Modern Functionality
Technology changes dramatically every 2-3 years. Layer on the fact that, because most of the world went online in a big way during the pandemic, technology itself made a corresponding leap to accommodate the need. Now, if your website doesn't adhere to modernized standards, it's going to be near impossible to compete with those that do.
Baseline technology website standards include:
Up-to-date code. Google penalizes websites that contain older code, by ranking them lower on the page in organic search results (or bumping them off Page One altogether). Have you updated your website in the past three years? If not, your code is old … but we can fix that.
Mobile optimization. More than half of all Internet traffic shops from a mobile device. Some smartphone users, especially ones under 35, make the vast majority of their transactions on theirs.

Every action feature on your website: online booking, shopping, gift card purchases, etc.—should be as quick and easy to complete on a mobile device as it is on a desktop.
Responsive design. Building on the above, a salon website needs 100% functionality on every potential platform (desktop, mobile, tablet), screen size, and orientation (vertical or horizontal).
As the user switches from their mobile to their laptop to their iPad, your website should automatically adjust for resolution, image size, and scripting abilities to transition seamlessly.
Non-negotiable #3: Appealing Design
An appealing visual design is important to all businesses, but it's make-or-break in an industry built on defining and crafting the latest in fashion and style.
Your salon, staff and services might be as hip and happening as they come, but if your website looks dated or boring, that's the first impression you give to everyone who encounters you online.
Based on our experience, the highest performing online ads for salons usually feature beautiful location photos—so having plenty of great images of your salon inside and out is a clear deciding factor for potential new guests and team members.
Whatever your salon's aesthetic, the website should have appealing visuals, limited but impactful copy, clean layout and easy navigation, and plenty of great images.
 

 

 

View this post on Instagram
If your website isn't where it needs to be, we can help—from tweaks and updates to a complete overhaul. Drop us a line at hello@immarketinggroup.com for a website evaluation and free consultation.